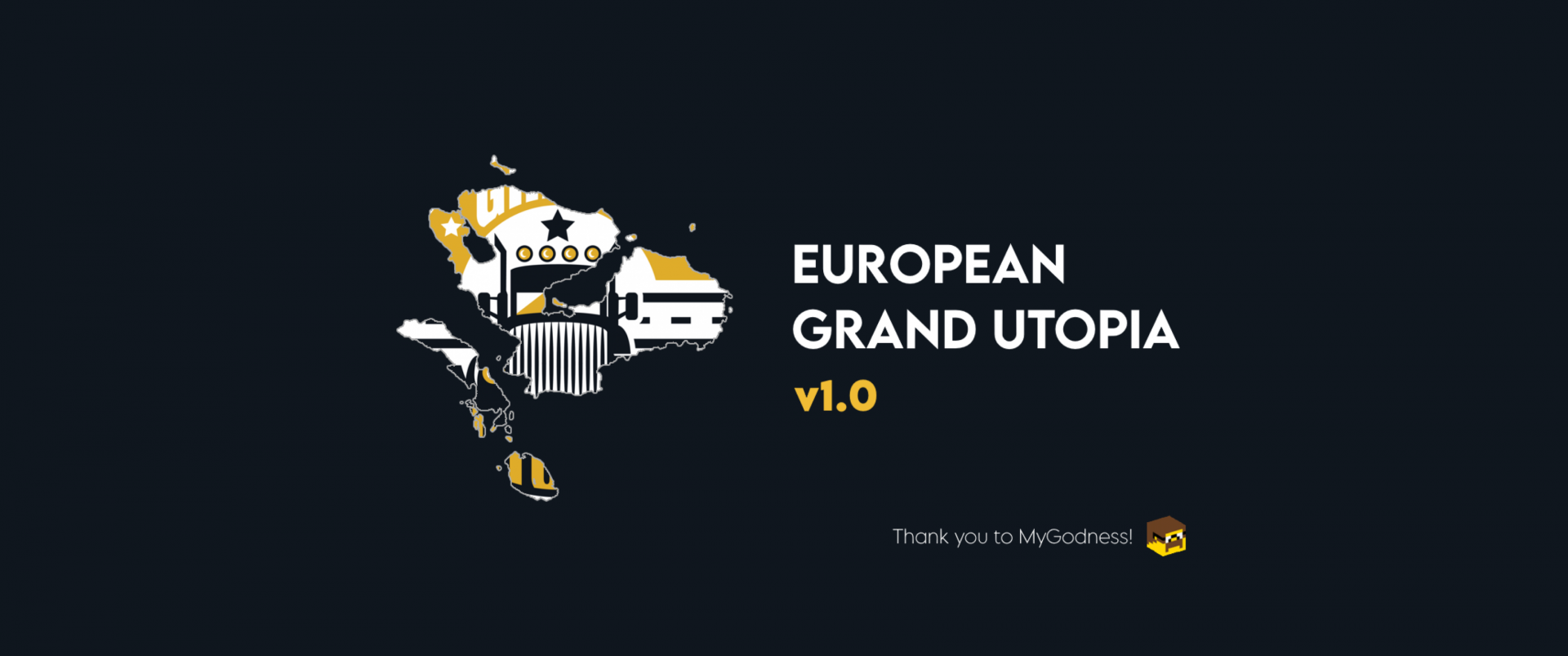 European Grand Utopia (a mod created by Adyox)
/!\ EDIT FROM 11/08/2023 - EUROPEAN GRAND UTOPIA IS NO LONGER AVAILABLE /!\ Perhaps you have secretly dreamed of it? A world in which it would be possible to combine Grand Utopia with SCS Europe and, why not, with Promods. I am pleased to announce that this sweet utopian dream is now becoming a reality thanks to the determination, patience and kindness of one person: Adyox.
Thanks to him, you now have a mod that allows you to integrate Grand Utopia into the base map. His mod is Promods compatible, which also allows you to enjoy the Utopian roads without leaving your European game profiles.
To use it, nothing could be easier:
∟ download and place the "European Grand Utopia" mod and the "Grand Utopia Map" mod in your mod manager.
∟ activate these two mods on your current game (pay attention to the loading order indicated by Adyox). It is not necessary to create a new game.
∟ it's ready, all you have to do is drive!
Here is the link to the TruckyMods page of his mod: European Grand Utopia for Euro Truck Simulator 2 - TruckyMods
To avoid any confusion, I would like to clarify some points:
Adyox (and him alone) is the creator of this mod. I therefore do not provide any support for EGU. If you have a problem, you should contact him via the TruckyMods page of his mod. Similarly, any questions or suggestions regarding the development of EGU should be directed to Adyox and not to me.
His mod changes the scale of Grand Utopia so that integration can work. GU therefore goes from a 1:1 to a 1:19 scale.
EGU seems to work with most Europe/Promods compatible maps.
EGU remains dependent upon the Grand Utopia mod. You must have both in your mod manager for this to work.
EGU is only for the public version Grand Utopia. The add-ons (Patrons Island, Akokan Island and Mygotopia) are not compatible.
I would also like to point out that Adyox had my full support in the creation of his mod and that this mod, as designed, respects my guidelines regarding the modification, sharing and uploading of my mods.
The essential has been said, I only have to wish you a good road on EGU if you ever test this new European utopian extension