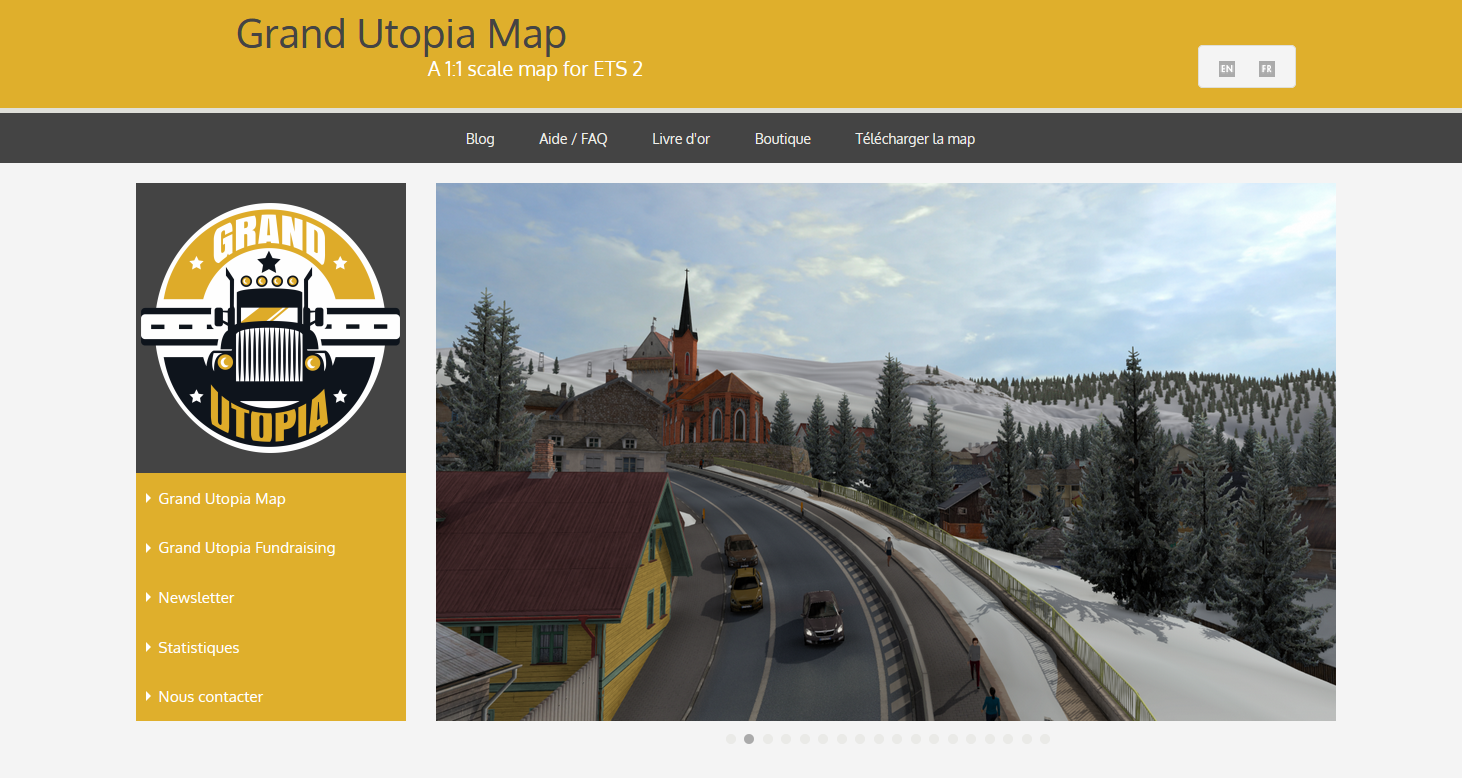 Our new website is online !
On 18/02/2021
In Website
1 comments
It is finally ready. The new Grand Utopia Map website is finally operational! We encountered some difficulties with our former hosting provider and we apologize for the inconvenience this may have caused to download your favorite mod. Today, we have an unlimited bandwidth package so no matter how many visitors, the site will always remain accessible. Now, let's take advantage of this first article to talk about the new features that are now available to you.
A blog
And yes! We have decided to create a blog in order to gather all the official announcements and other important information that we want to share with you. The blog is meant to be a main place of information and will be available in French and English at first. We do not exclude the possibility of proposing other languages one day, but this is not yet on the agenda. We will try to classify our articles in clear categories to facilitate the search for information.
Contact forms
Another great novelty, we have configured several contact forms to centralize your requests. Always with the aim of improving our efficiency and limiting the loss of messages, drowned in the mass and scattered over our various communication networks. As of today, we thank you for using only these forms. We are counting on your cooperation to help us be more productive. A member of the Grand Utopia team will answer you as soon as possible. Let's make a small presentation of the different forms at your disposal.
REPORT BUGS/ERRORS
This form will allow you to report bugs and mapping errors you encounter on the map. We remind you that we do not support bugs encountered on an ETS2 version different from the one recommended by the version of Grand Utopia used. Therefore, currently, only bugs encountered on version 1.10 of Grand Utopia used on version 1.39 of ETS2 will be supported.
You will also have to attach two images to your report:
- an image of the bug in game
- an image of the minimap so that we can locate the bug
CUSTOM WAREHOUSE REQUEST
This form must be used for any request relating to a land for sale for the construction of a personalized depot. Don't forget to consult the list of available land before making your donation to make sure that the land you have chosen is not already sold.
We thank you to always answer on the same email thread to avoid having several conversations for the same project.
VTC REQUEST
This form will also allow you to make your VTC requests.
OTHER REQUESTS
And finally, you can contact us for any other request via this form.
A guest book
A nice little feature offered by our new web hosting company. Consult and drop a little word to our team to tell us if you like Grand Utopia. For now, it's empty so we're counting on you to make it overflowing with love messages in the future!
An online shop
For those who are not yet aware, Grand Utopia has an online store where you can find a number of goodies with our logo (teeshirts, stickers, mugs, etc.). We have created a presentation page with a few items to link to our online store on Redbubble. Take a look around and have fun!
An Help/FAQ section
Finally, we have decided to start creating a FAQ so that you can quickly find an answer to your questions. The FAQ will be updated over time.
A newsletter
And to complete this article, you can now subscribe to our newsletter. We will use it to inform you about updates from Grand Utopia. So you won't be harassed by emails, rest assured! To subscribe, simply enter your email address in the "Newsletter" tab in the vertical menu on the left of the site.