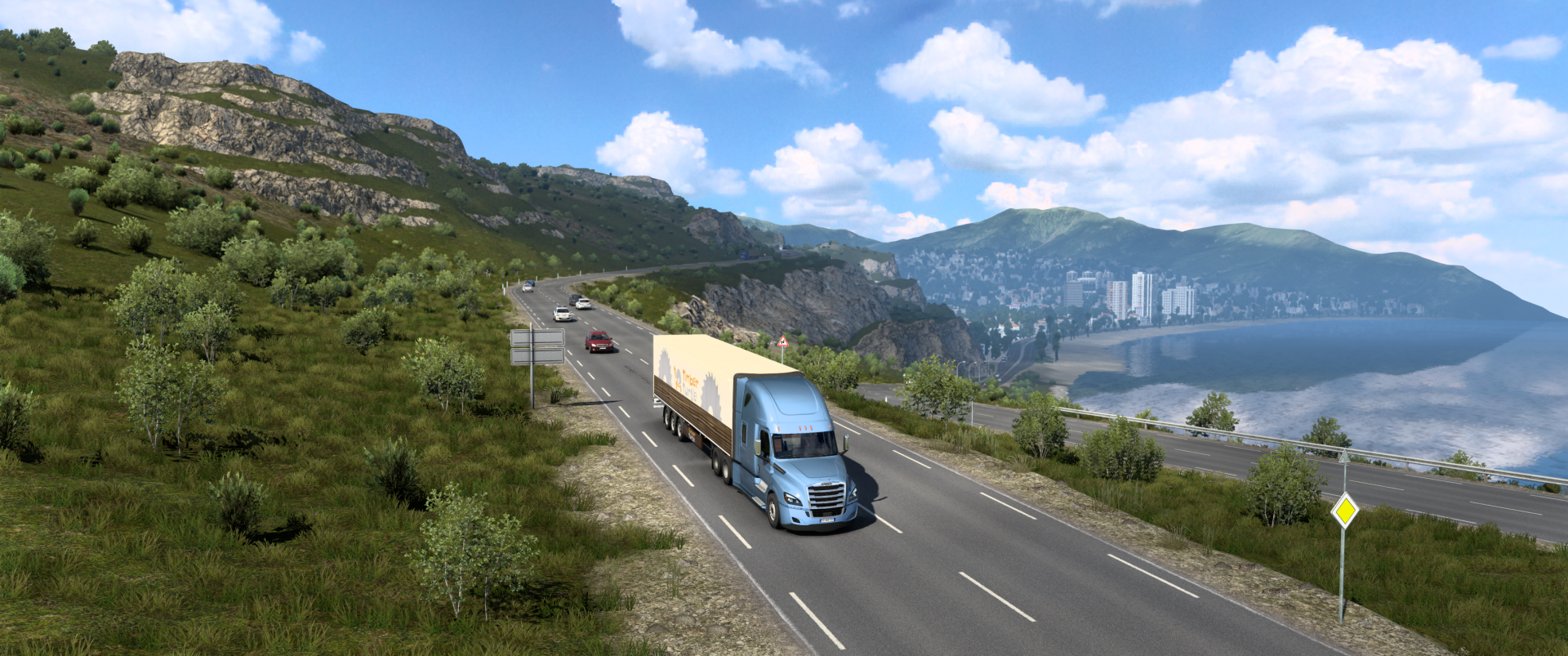 Mapping Follow-up #2
Hello everyone! We're meeting again for a little update on the progress of my projects and the latest news. On the menu, a new VTC to celebrate the launch of my Patreon Family, a village on Grand Utopia called Stellamar, an exclusive addon for my Patrons and the closing of the PayPal kitty.
Stellamar
We're starting with Stellamar, a brand new village on Grand Utopia that will be located between Grandville and Gérardmer on the southern shore of the island. Stellamar was built on a peninsula, quite rocky and very famous for its Leaning Rock. Climbing this mound has been prohibited by the municipality for obvious safety reasons. Nevertheless, many tourists try to reach its summit every year and, every year, the rescue services of Stellamar perform dangerous rescues. So please don't imitate them!
Instead, why not take advantage of a short delivery in the area to stroll through the narrow streets of the town centre? Or along the road leading to the marina? The latter will offer you a splendid view of the bay lined with steep cliffs and, below, several yachts and sailing boats that like to drop anchor here for a night or two. If you're more of a lazy type, head to the beach north of the village. Also bordered by cliffs, this large stretch of fine sand is a popular spot for the inhabitants of Stellamar, Grandville and Gérardmer! By the way, I've been told that a garage with a view of the sea will soon be available for sale. Who wouldn't want to move their business to this idyllic environment? Let's hear it.
This little city will be available in the next version 1.12 of Grand Utopia!

Creation of the Patreon Family & Co.
As you already know, I recently launched my Patreon page. If you missed the information, don't panic! You can read this article in which I present the concept and the benefits you can receive.
So, to celebrate this opening, I decided to create a new company that I named Patreon Family & Co. This company will also be available with the next version 1.12 of Grand Utopia and not only for my Patrons. It will be available to all Utopian truckers, without conditions. A first warehouse has been installed in the Marcel Michelin Stadium area of Utopia. Others will also be integrated throughout the map. I can't wait to see you driving for this new company! And yes, I also repainted my DAF for the occasion!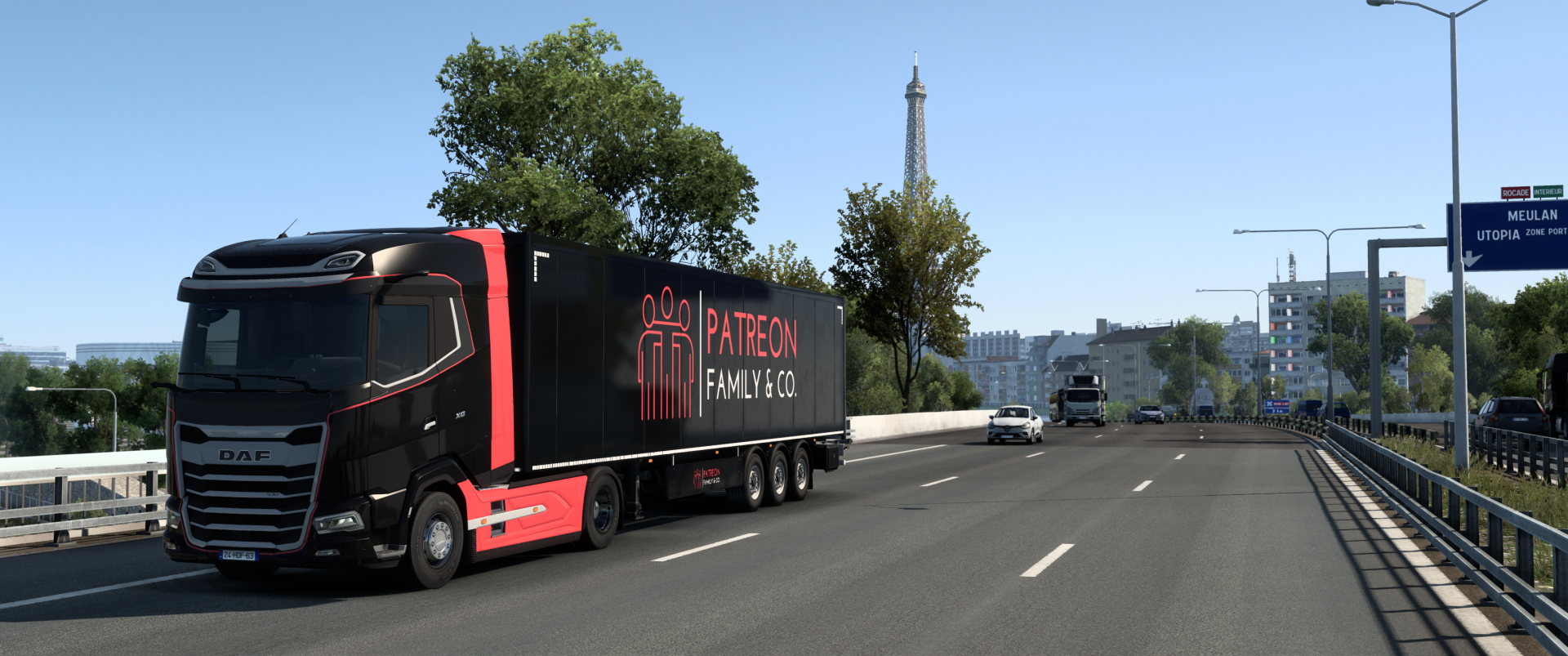 Creation of an exclusive addon for my Patrons: Patrons Island
This weekend, I also started the creation of an addon that will be offered as a thank you to my Patrons (from the Gold and Diamond Club). This small island, named Patrons Island, is located at the entrance of Utopia Bay, off the coast of the city centre and the port area of the Utopian capital. Only accessible by ferry, this private island, which can be used as a primary or secondary residence, will have a small port (it is better to disembark by truck), a large old castle with its outbuildings, a relay antenna to better receive the telecommunication networks, a chapel on the heights (in case you feel like confessing), a park with trees, French gardens, a lighthouse, a private beach and, of course, a garage and a workshop to park and maintain your precious trucks. The island is completely independent in terms of water and electricity as it has its own seawater desalination plant, its own water tower and its own wind turbine (pretty cool in case the world ends). Finally, for your test drives (or digestive walks), a tarmac road has been laid out all around the island, offering a unique view of Utopia Bay.

Closing of the PayPal kitty
Here's another piece of news, this time not of my making. Unfortunately, the PayPal company has decided to close its online kitty system. All the kitty's, including the Grand Utopia Fundraising, will be deleted between 30 September and 30 October 2021. At the moment, I don't know if PayPal has plans to replace them with something else. So I will have to make a decision soon.
I created this fund because it was more convenient for me to receive your donations on a separate "account" from my PayPal account (your payments don't currently go directly to my PayPal account but to the fund account). I don't really want to go back to the mess it was when I started Grand Utopia a few years ago. I have to say that I use PayPal a lot privately. Anyway, I don't know yet what system I'll use but I still have a few weeks to think about it. I won't bother you any more with this, the purpose of this article was mainly to slow down the information about the closing of the kitty. I'll keep you informed about the new system when the time comes.